If you've ever picked up the melted plastic handle off a frying pan or cleaned a stove after making a dish in a wobbly pan, you're ready to learn more about good cookware!
First, you should invest in a good quality pan made from the best material for your needs. After that, maintenance plays an important role. You need to take good care of the cookware so that it lasts a long time.
Whatever type of pan you choose, it is nice and also important that they are sturdy. Thickness means that a pan will not dent, warp or show hot spots (which causes food in one part of the pan to cook faster or burn before the rest is done).
Thinner material does not retain heat evenly. A deeper pan should retain heat all along the side; a heavier pan is also more durable and can withstand frequent use and washing.
The three basic pots that are an absolute must-have to start the collection: a saucepan of approximately two litres, a sauté pan/sauce pan of approximately 25 cm and a soup pot of approximately 8 litres. They are suitable for almost any cooking task. If you buy them of high quality, you can use them for a long time and enjoy them a lot.
There are a lot of different pans, some better than others. It is therefore difficult to determine which pan or pot you should go for. This depends on how you want to use it and what your preferences are. Do you want a basic pan? Or can it have a good look? What quality do you want? In the case of quality, in most cases you have to look at the material, and how many 'layers' the pan has.
For an average family of 4 we recommend the following arrangement of 7 pans:
3x cooking pans (wok pan, small frying pan (20 cm), frying pan (24 or 26 cm
stockpot
Saucepan
sauté pan
cooking pot
This generally saves you enough! The best is; Cook and Pan has them all! Are you looking for quality and a good look? Look in our category Pans or Baking and Frying .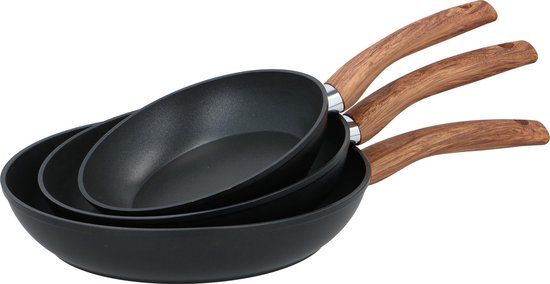 If you still have questions, feel free to ask. We are more than happy to answer any questions about cookware.